New Product Introduction
New Product Introduction
New Product Introduction (NPI)
Dynatron has maintained many years of cooperative relations with Japan's TOA Group. With more than thirty years of successful OEM experience, we are able to rapidly transfer products into mass production. In addition, our strong ODM capability helps develop our customers' development and ensures rapid time-to-market for our customers. With customers being our top priority, we offer a comprehensive quality assurance warranty and excellent teams that collaborate on procurement, R&D, production management, production technology, manufacturing, and quality assurance, in order to produce products in a rapid and high-quality manner.
New Product Introduction (NPI) Process
Dynatron has developed a comprehensive and detailed production plan that integrates material procurement, testing, NPI meetings, and assembly scheduling. In addition, it documents standard operating procedures and manufacturing process management procedures (including procedures of procurement control, incoming quality control (IQC), IQC records, manufacturing process control (MPC), on-site management (OSM), in-process quality control (IPQC) and final quality control (FQC) ) for quality control in compliance with ISO 9001 working instructions, in order to ensure punctual and precise delivery of the exact order to clients.
Reliable Production
Dynatron has a streamlined production process pursuant to ISO 9001:2015 quality manufacturing system (QMS) standards. It prepares production equipment, molds, and visualized management and designs suitable process engineering systems according to product specifications, in an aim to improve product yields and production efficiency.
High Quality
Dynatron has introduced strict quality control procedures to ensure that quality standards are met at all stages from raw materials to finished products during all phases of inspection, including incoming quality control, in-process quality control and final quality control. Dynatron uses a one hundred percent product inspection policy to guarantee product quality.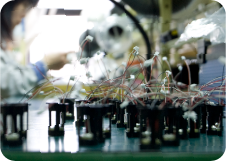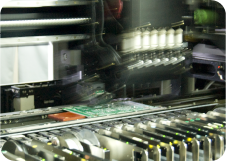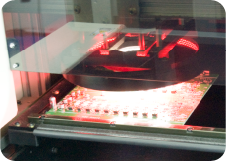 Equipment
Equipment
Dynatron's assembly services range from electronic component layout to PCB assembly, testing and altering, from assembly, setting, inspection, quality control, packaging to delivery. Dynatron carries out regular external standard calibrations and internal audits, as required by ISO 9001, on all machines, instruments, and equipment it produces. By doing so, Dynatron ensures a consistent and stable quality for all of its products, which it can deliver to its clients safely.
We produce the following equipment
PCB Hot Air oven
Solder paste mixer
Auto Screen Printer
SMT Assembly Equipment
Lead-free Hot Air Reflow oven
Freed adjustment Equipment
Automated Optical Inspection
3D Rotatable vision inspection system
In Circuit Tester
DIP Forming Tool
Automatic lead cutting machine
Lead-free wave oven
Dip Wave oven
HI-voltage Testing Machine
Antistatic Equipment
Shielded Room
Audio Analyzer
Communication Service Monitor
Vector Network Measurement
Digital Phosphor Oscilloscope
Signal Analyzer
Electrostatic Discharge Simulator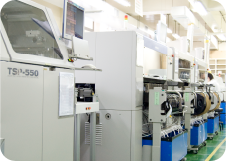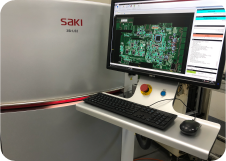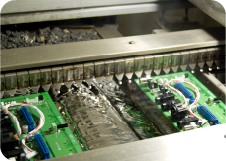 PCB assembly
PCB assembly
Dynatron makes every effort to offer all clients high-quality PCB assembly services and has the ability to meet a wide range of customer demands on PCB assembly and supplies. Dynatron provides PCB assembly services for traditional Dual In-line Packages (DIP), chips and micro Surface Mounted Devices (SMD), as well as automation equipment.
In compliance with ISO 9001, Dynatron has developed a well-designed, long-term employee training program to continually enhance the skills and knowledge of employees. With well-trained staff, the latest surface-mount technologies, and advanced inspection instruments, Dynatron can produce the highest quality PCB products.
Dynatron's PCB assembly services include
Auto-Insertion(AI) /Dual In-line Package (DIP)Equipment and Assembly services
Surface Mount Technology (SMT) Assembly and Equipment
PCB Process Support
RoHS PCB Assembly
In-circuit Test (ICT)
Automated Optical Inspection (AOI)
High-scope Microscopic Vision Inspection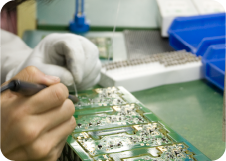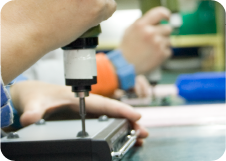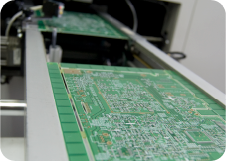 Product Assembly and Testing
Product Assembly and Testing
Dynatron received ISO 9001 quality certification as early as 1996, followed by ISO 14000 environmental certification later.
Over the years, we have passed many strict internal audits and external inspections (by the Electronics Testing Center and Bureau of Standards, Metrology and Inspection) and maintained conformance with high standards developed by the International Organization for Standardization.
Therefore, we are able to provide our clients with well-versed manufacturing practices regarding procedures, operation instructions, manufacturing standards, inspection/testing standards, and record documentation.
Our quality policy is aimed at creating value with unfailing commitment towards quality and gaining pride and dignity by providing flawless products.
While pursuing sustainable operation, we comply with laws and regulations, develop new technologies to satisfy demands from clients and produce high-quality, flawless products, which is our ultimate objective.
Our services range from PCB assembly to processing with imported materials. Whether you only need PCB assembly service, or a full range of services from assembly to packaging, you can always rely on us.
We will integrate your needs and ideas with our technologies, reflect them in the products and provide you with the most satisfactory and comprehensive manufacturing services.